Today is the first time 24 people with locomotor disabilities, from 20 villages around Singanamalla are receiving the services of a mobile ortho workshop. This project was started by RDT in January 2020 with the purpose of providing and repairing aids and appliances but was halted shortly after in the wake of the COVID-19 pandemic. When the lockdown restrictions were lifted, the van resumed travelling, since August, to different project regions of RDT, including Srisailam forest area.
"The van provides small and quick services like replacing small parts like screws, minor repairs, taking measurements to prepare their appliances, etc. We also assess their problem and counsel them, so they don't need to come all the way to our orthopaedic and prosthetics workshop in Bathalapalli and Kalyandurg," shares C. Shekhar who is an orthotic and prosthetics technician and the in-charge of the workshop at Kalyandurg.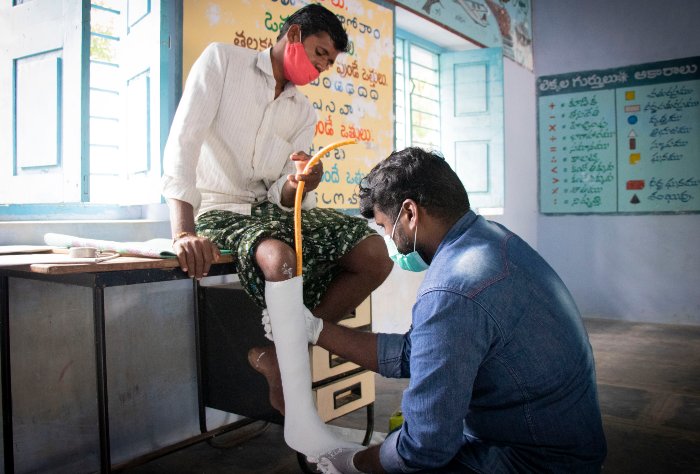 At the RDT supplementary school cum community centre in Singanamalla, people have arrived and are sitting distanced from each other in the verandah. One of them is 14-year old Charan who is seated while his mother gives his personal and health details to the RDT staff sitting at the desk. Being in his teen years, Charan has outgrown the size of his prosthesis and has come to have them repaired so he can walk comfortably again.
Charan was born with an inverted leg because of which his parents had to carry him everywhere. In 2012 he underwent a surgery at the RDT Bathalapalli Hospital to have it amputated and was provided with calipers so he could walk independently.
During the lockdown his caliper became tighter and the artificial foot got worn out but due to the restrictions, he had to manage anyway. Today, at the mobile workshop he finally had them repaired in under 30 minutes.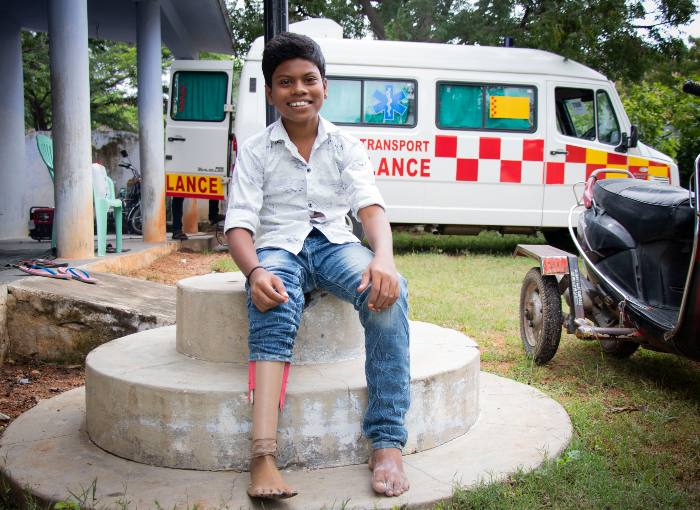 Every month, the entire ortho workshop team conducts around 12 camps at the village level through this van. Four people provide assistance through this van – a person-in-charge, an orthotics technician, a prosthetics technician and a physiotherapist who helps with exercises for people with disabilities, including for children with cerebral palsy. Travelling to different villages and meeting people of all ages through the van has been "a novel experience" for the staff, like Shekhar says. "It has given us a better idea of how people live and the problems they face especially in the remote areas. Generally people come to the stationary workshops only when it is a serious problem, otherwise they ignore it."
This is true in the case of Balanna Talari who has been walking with the help of a single bamboo stick since his crutches were stolen eight years ago. As a tailor who mainly survives on pension, he couldn't afford a day's travel to the workshop at Bathalapalli and so, ignored his situation as a minor inconvenience. Thanks to the orthopaedic van, he was provided with new crutches and basic training in how to use them. "I feel a bit nervous about using these new crutches but I want to practice so I can walk more comfortably," he shares.
The mobile workshop is proving to be beneficial to many people but the aim of this initiative is to supplement the work done at the stationary workshops and not replace it. "They are both important because by reaching out to people through the vans, we repair minor problems that people generally ignore and even identify issues that need attention. At the same time, at the stationary workshops we manufacture the aids and appliances and also provide specialized care," says Shekhar.
Anita has witnessed this entire process herself. She contracted polio when she was five years old and was provided with calipers and crutches by the Bathalapalli Workshop when she was in eighth grade. "For most people who live in remote villages, the locations of the stationary workshops are 2 hours away because of which they have to skip work and lose that day's wage. The ortho van is proving to be a boon as it saves time and cost of travel and also greatly reduces the risk of travelling for people with disabilities, given the fact that not many public spaces are accessible. People from the villages are coming forward for consultations with great interest," she expresses.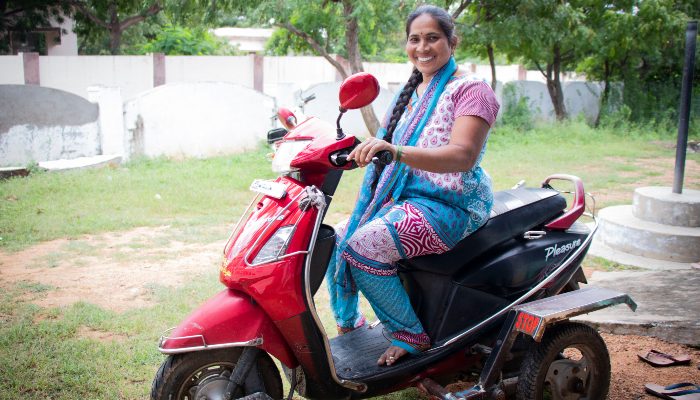 This workshop is one of its kind in the entire region and Shekhar thinks it is imperative that the work continues. "I am realizing that people are appreciating our work more now. At the stationary workshop, they don't see the process of what we do but here at the ortho van, they realise that it is a complex work that requires attention and care as they see us dealing with people with varied problems. But more importantly through these workshops, we address the issue of discrimination and stigma that people with disabilities face. We encourage them to use their appliances without guilt and hesitation and motivate them to be confident with who they are."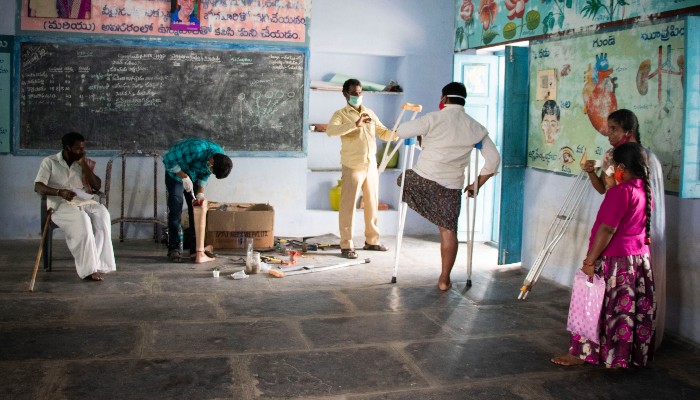 Pictures and Text: Felita Viegas