Runners from Spain, Ireland, Australia, Iran and Colombia participated in the AUM, a non-competitive solidarity event organized by Rural Development Trust (RDT), an NGO based in Ananthapuramu.
Together they raised 1.5 crores to provide secure housing to 39 families living in huts in Srisailam area.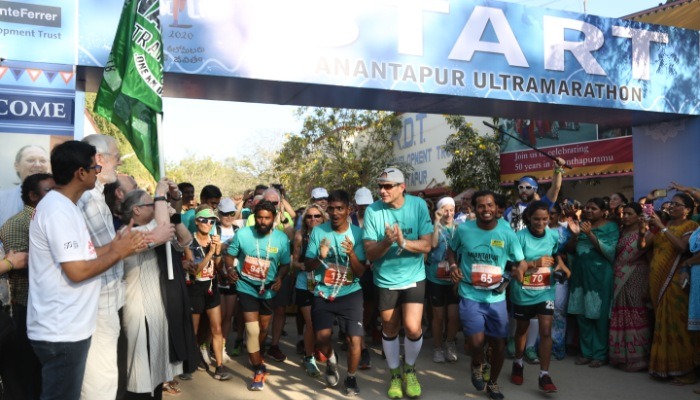 128 runners who started at the RDT Main Office in Ananthapuramu on Friday, 24th January reached the finishing line today to conclude the fifth edition of the Anantapur Ultramarathon at RDT Hospital premises, Bathalapalli.
These runners were a part of a unique and exciting sports challenge – to run 170 KMs, in teams of four, through the villages and scenic countryside of Ananthapuramu to enable 39 families in Srisailam improve their living conditions, a challenge that they accomplished successfully before their run!
Encouraged by the staff of RDT and the locals who gathered in huge numbers for the opening ceremony of the event, the runners started their adventure at 4.30 PM, covering the Bukkarayasamudram hill, the RDT High School for Speech and Hearing Impaired, crossing rivers and many villages where people kept raising their spirits with drums and enthusiastic cheers until the end.
After going all through the night, these 32 teams concluded this relay ultramarathon, the only in India, at the RDT Hospital premises in Bathalapalli. "As goes the motto of AUM which is 'One KM, One Life', I joined the relay because running is one of my passions and through this initiative, I can change lives with it," says Gowthami Bai, a local trained athlete who has participated in many national-level athletics competitions.
Peter Lawlor, who came all the way from Ireland to join the AUM for the second time says, "I have been a part of many marathons and it is always a great challenge but the AUM is unique, because here I do not run for myself but to help others to access a dignified life".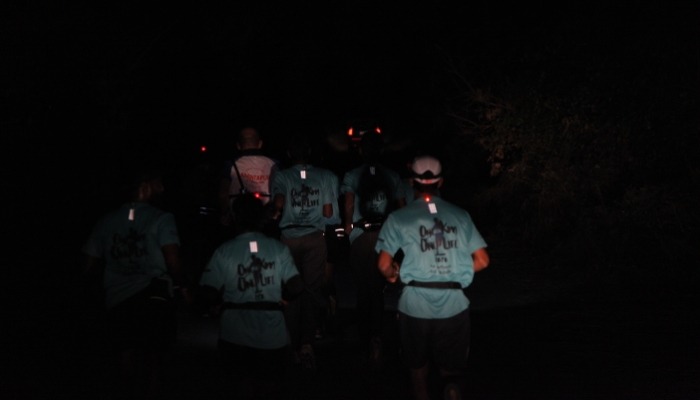 Mojdeh, who hails from Iran and is currently living in Bangalore remarks, "This is my first time running a marathon like this. Physically it has been a challenge but emotionally it has been overwhelming to see how in all the villages and transition points there were people waiting for us. It has been a wonderful experience."
Additionally, 130 runners participated in the Anantapur 10K which started at the resting place of Vicente Ferrer in RDT Hospital in Bathalapalli and concluded along with the ultrarunners. "I am a regular 10K runner but this experience has been like no other.  I came alone to this race but all through the running, I never felt alone. I made some friends along the way," says Sajal Das who came from Bangalore.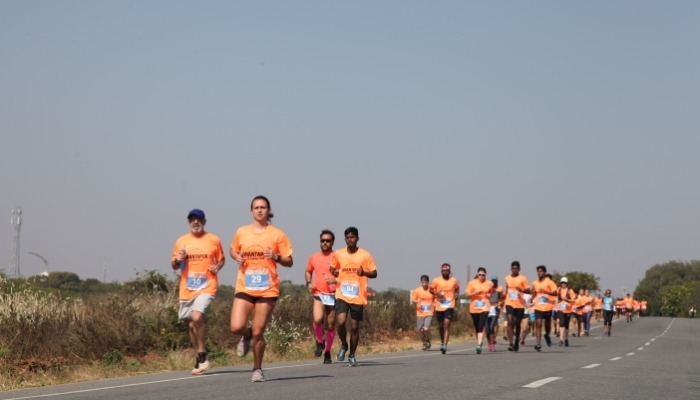 These runners have outdone themselves to successfully raise more than 1.5 crore rupees for the housing of the families in Srisailam. No matter their diverse background, their passion for running united them all at the V Anantapur Ultramarathon and so did their will to fight against poverty, and most of them are already waiting to do it again next year.
To view the full album of Anantapur Ultramarathon, click here.
Text: Aina Valldaura, Felita Viegas