While the government are pooling all resources and the frontline workers are putting up a brave fight against the novel corona virus, there are others who are doing what they can in their best capacities to contribute to this fight.
One of them is a young man of 25 years, Somashekar, who has been painting preventive measures on the walls in over 30 villages to spread awareness since the lockdown started. Even though he comes from a humble family, his parents who are agricultural labourers, are encouraging him in his initiative by providing paints, materials and other needs.
"Art knows no language, it is universal.  What better way to convey the importance of precautions than through art," he states about his work.
As a child, Somashekhar was supported under RDT's Education and Health programme which made it possible for him to pursue Fine Arts at Yogi Vemana University in Kadapa, Andhra Pradesh. What has been his talent and passion, he is now using it as a tool to create conversations about COVID-19 in the villages he goes to.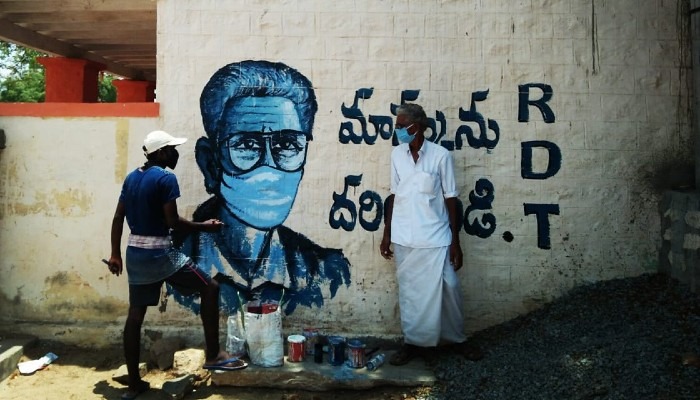 At what age did you start painting and how did you develop interest in arts?
When I was about 6 years old, I attended the RDT Art Festival hosted at our school. I liked what was going on over there and started getting interested in arts. I attended the festival every year but did not win. That kept me going. I wanted to win the 1st place in the Art Festival and continued to refine my skills. That happened when I did a series of paintings on violence against women and girls. Not only did I win but it brought me a lot of recognition in the local media as well as encouragement from my family and teachers. From that point, I just kept going forward. I realized the role of art in bringing change in society.
Why did you decide to make this wall paintings?
COVID-19 has affected a lot of countries and millions of people across the world. I thought about my locality and other surrounding villages and what would happen if COVID-19 affects us? Here people are stuck in poverty and live hand to mouth. It is hard for them to survive without work, the hospital expenses will be a great burden. This motivated me to do something, to use my art to spread awareness among people. My parents supported me financially with whatever little money they had when I told them about my idea.
What did people tell you about them?
People were very encouraging. My family, the local media, RDT staff and everyone around appreciated the art. When I was painting I saw people discussing the paintings, old people stop by to see and discuss among themselves about the virus and how they can be safe, children love the work.  Women discuss the importance of prevention, and how they can use sarees and how men can use handkerchiefs as protective gear, if they are running short of masks. I am glad that these paintings are starting discussions among people in the villages.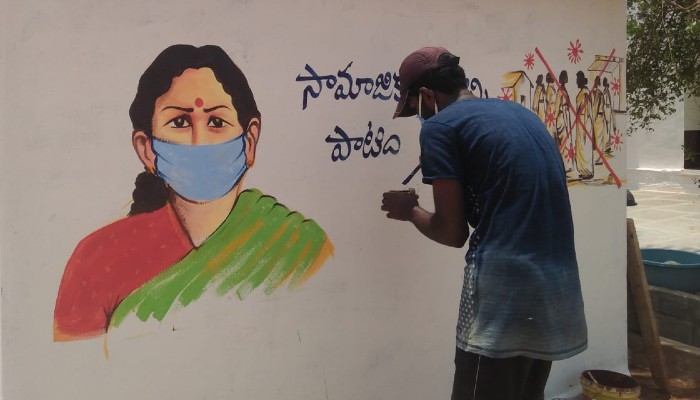 What message would you like to give to the people who are suffering due to the COVID-19 all around the world?
In these hard times, we need to help each other and we can overcome this pandemic with unity and resilience. We all should take the required precautions and stay home. Many people do not have the luxury to stay home or provide for themselves, those with resources can help the less fortunate and help one another now. We must show empathy towards each other.
What is your dream? Something you would like to achieve?
I want to be a good artist, I want my art to bring a social change among people and communities. I want to educate people through art. It has always been my passion.
Check these artworks by Somashekar:
Text: Ernest Abhishek, Felita Viegas