RDT's Hospital Network comprises of two secondary-level hospitals, one primary health centre and a Hospital for Infectious Diseases.
Close to 2,18,000 people were admitted in the hospitals at Bathalapalli, Kalyandurg and Kanekal during 2018-19.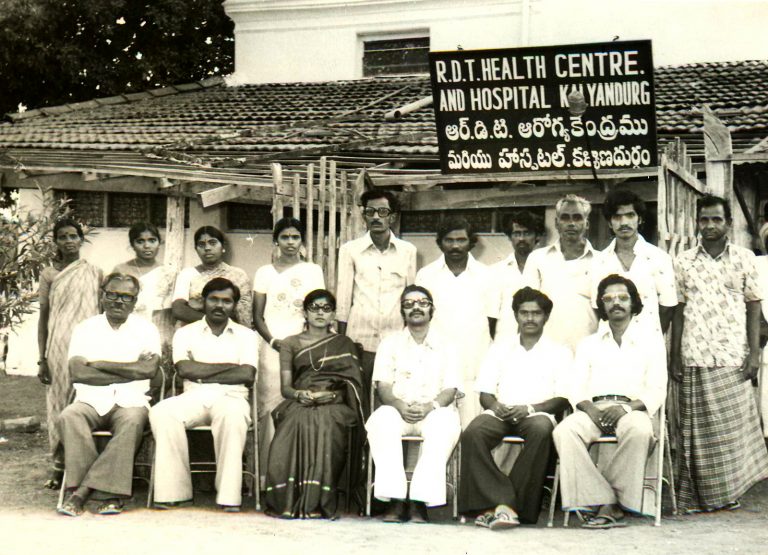 One of the worst consequences of poverty is poor health, constant illnesses and being unable to recover due to the poor diet. Existing healthcare infrastructures, in terms of quality and quantity, are inadequate especially in rural India. Lack of awareness and insufficient public expenditure on health plays a major role in depriving millions from their right to health.
From 1975-1980, RDT started its health program with a clear motto: to provide quality healthcare for the poor people living in rural areas. Something that was was not even a dream then.
RDT's rural health programme is a combination of professional medical care provided through our hospital network and trained rural health workers that work on prevention and awareness of multiple problems in the villages.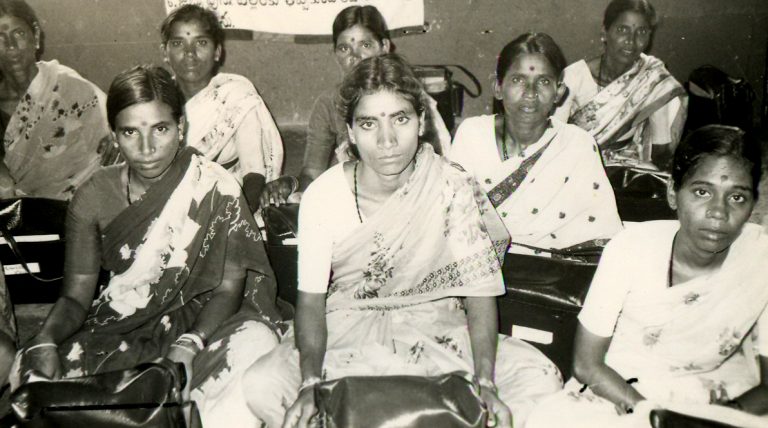 To make up for the lack of qualified rural health workers, RDT sent the first batch of six people to Tamil Nadu to study for one and half years on Community Health in 1976. "The Community Health Workers (CHWs) and the Health Organizers (HO), called green and blue angels respectively for the colour of their saris, are of vital importance for us, the doctors. They are our eyes in the villages. With their help we can reach the more remote areas and save the patient," says Dr. Y. Bala Subbaiah, Director of the RDT Hospital Network
Today more than 3,000 villages are covered by the HOs and more than 1,000 CHWs conduct home visits, take care of the nutrition program and are in charge of the follow-up of chronic patients. They also spread awareness on the immunisation, institutional deliveries and healthy and hygienic habits.
In 1978, RDT started running two primary care clinics in Kuderu and later on in Kalyandurg to provide basic assistance to the needy.  At that time, in villages, when people had an emergency such as a difficult delivery or an appendectomy they had to travel 60 to 100 KMs by bus or a bullock cart to reach the nearest hospital. Often it was too late.
The lack of easy access to health facilities and the difficulties to retain doctors are still the major challenges of healthcare in the rural areas.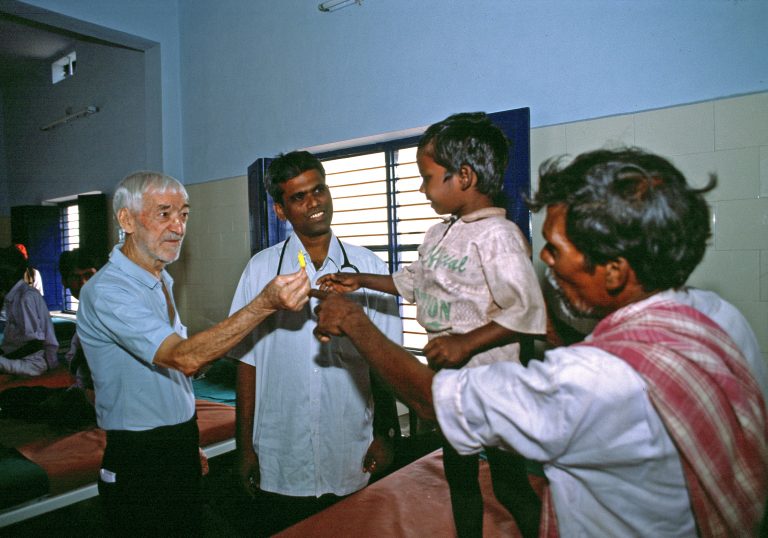 "When I joined Kuderu Hospital in 1991 I was shocked," remembers Dr. Bala Subbaiah. "I was the only doctor and there were only a few nurses. Knowing fully that I was the only hope of survival for many is what kept me working".
"On numerous occasions I told Vicente Ferrer, ´Doctors are not keen on working in rural areas and you want to build a hospital in a village. It will be very difficult´. He always gave me the same answer: 'Probably it will be easier to run the hospital in a city or town but most of our patients came from the villages. Even if it is difficult we have to run the hospital here'."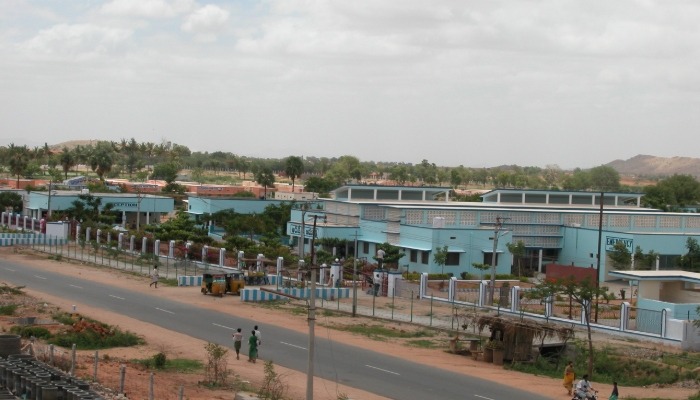 In 2000, one of RDT's dreams came true with the opening of a secondary-level hospital in Bathalapalli. It has 12 different departments such as internal and family medicine, general surgery, orthopedics and traumatology, internal medicine, Emergency Unit, Gynaecology and Obstetrics, Neonatology and Paediatrics among others. It has been recently recognized as a reference hospital under the Dr.YSR Aarogyasri health scheme by the government of Andhra Pradesh.
During 2018-19, 24,233 people were admitted in the hospital (57% of them women) and around 3,94,000 out-patients visits have been attended to.
Later on a primary health care centre was set-up in Kanekal and in 2006, the Kalyandurg Hospital was upgraded to secondary-level.
Since the beginning women and children's health has been a priority of RDT's health programmes. "We treat 50-70 cases daily, mostly young pregnant women between 20-25 years. This is the only hospital around 50 KMS where caesarean sections can be performed. In addition, approximately three out of four women suffer from chronic anaemia, mostly due to severe malnutrition. This complicates pregnancy. We also treat many cases of infections, haemorrhages and uterine diseases", explains Dr. Manjula, Head of Gynaecology and Obstetrics in RDT Hospital, Kalyandurg for the last four years.
Situated 60 KMs from Anantapur, Kalyandurg hospital's gynaec and obstetrics department has conducted more than 15,000 deliveries in the last two years and performed over 2,200 surgeries.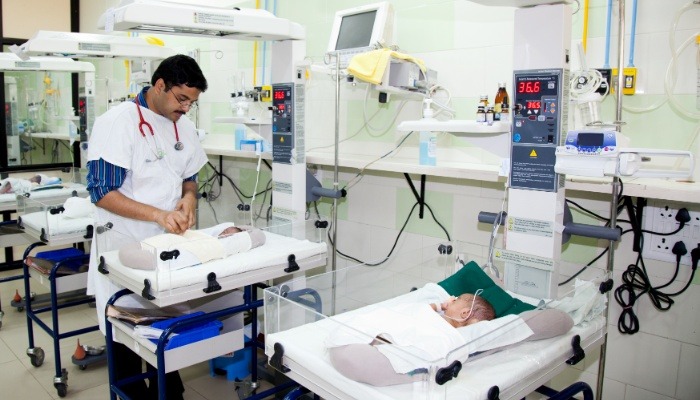 In India where malnutrition and child mortality are alarmingly high, the disparity in child healthcare is serious. In 2018, paediatrics department in Bathalapalli was recognized by the National Neonatology Forum of India for the quality of its infrastructures and treated 2,768 patients of which 40% were females.
Moreover over 1,600 neonates were admitted last year in Bathalapalli´s Neonatology Intensive Care Unit for an average of 6 days.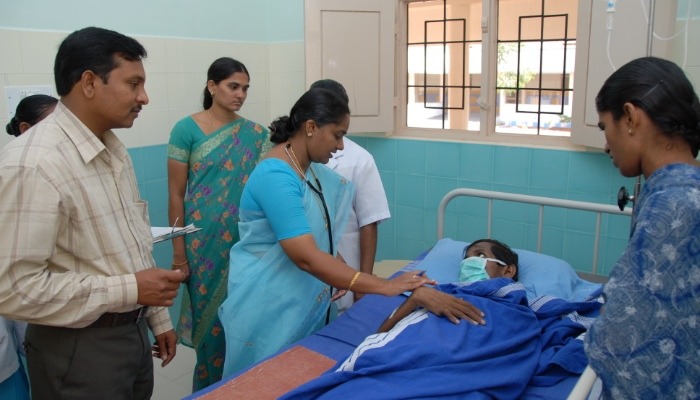 "Everybody has right to live with dignity and ensuring this basic right is exactly what we do in our Hospital for Infectious Disease (HID)", remarks Dr. Bala Subbaiah. In 2006, RDT started the HID, also known as Care and Support Centre, to treat persons living with HIV and Tuberculosis (TB).  "Before, people used to think that if they had HIV they would die and that it was probably better. We are changing this misconception here," he adds.
The HID has become a reference in South India in recent years and apart from Anantapur, people from Kurnool, Kadapa and Chitoor districts are also treated in this facility.
HID was the first private hospital to have an in-patient facility for HIV and TB and to be authorized to provide free second line antiretroviral treatment in India, after being recognized by as an  ART+ Center by Andhra Pradesh State Aids Control Society (APSACS) through National Aids Control Organization (NACO)
As of 2018-2019, close to 7,300 people are currently registered for ART therapy and  2,785 Tuberculosis patients, out of which 248 suffer from Multi-Drug Resistant (MDR) TB received treatment.
The new mycobacteriology lab in the Bathalapalli Hospital, built in 2018 according to the recommendations of the World Health Organization allows quick and accurate diagnosis of those suffering from MDR-TB making timely diagnosis and treatment possible.
This lab is the third facility of its kind in the whole of Andhra Pradesh that is authorised to detect resistance to antibiotics in patients with TB under the Revised National TB Control Program (RNTCP).
Healthcare in rural India faces serious disparities. Apart from strengthening infrastructures, there is a dire need for providing access, both in terms of proximity and knowledge. That is why RDT's healthcare programmes combines professional medical support with a network of health workers to reach out at the grassroots. Together they pave the way to achieve communities free from the burden of diseases.
For more information on our hospitals click here.
Text: Aina Valldaura