The devastating second wave of Covid-19 hit India in mid-April, reaching more than 4 lakh cases daily during the second week of May. Kishore did not see it arrive or erupt; he has lived it inside the Bathalapalli Hospital
It was April 8, 2021, when Kishore * arrived to the emergency room. The silent beginning of a terrifying second wave had not yet exploded. The health centres were operating at their usual pace and couldn't even imagine what would happen in a few days. RDT Bathalapalli Hospital was his only alternative. He had spent all his savings visiting the closest private hospital and on medications that had not worked.
"When he arrived, we diagnosed him of what appeared to be acute pneumonia", explains Dr Harish, head of the Intensive Care Unit at Bathalapalli Hospital. His oxygen saturation levels were below 60, so they decided to do a PCR test on him. The hospital had not received patients affected by Covid-19 in months, but they wanted to rule out the possibility. The result was positive. He was very weak.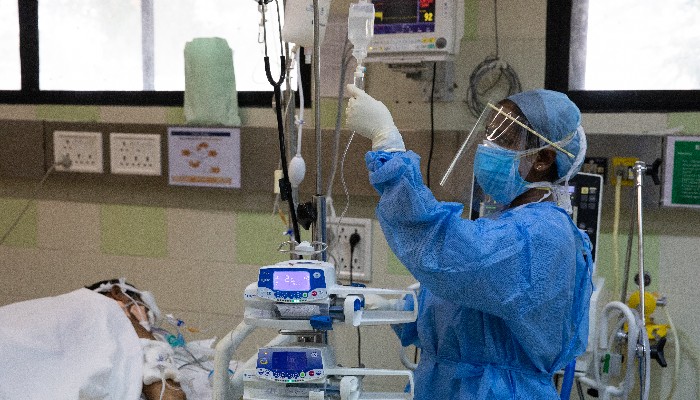 They took him to the isolation room. There were no patients. "Being there, I just felt fear. I couldn't think of anything other than fear", confesses Kishore. Not even 48 hours passed when a couple of nurses transferred him to the Intensive Care Unit (ICU), where he was provided with non-invasive respiratory support through a face mask. "There, lying on the bed, I began to think about my family. How are they going to get money if I can't work? If I don't work, there is no money. They won't be able to buy food. If I can't sew, my children won't have anything to eat… ", Kishore admits with his gaze fixed on the ground.
He is a saree weaver. It was his father's job, and now it is his. He has the loom at home, and with the support of his wife and his children, who prepare the dyes for the threads and leave them well untangled, he makes the garments. It is an artisanal process that offers him the possibility of working at home to spend more time with his family, still, it only allows him to earn what is necessary to live from day to day.
"I remember that I was very weak, I had no hope … And after that, nothing. My head becomes a great void", says Kishore. Just one day after entering the ICU, the doctors had to resort to artificial ventilation, intubating and sedating him to ensure proper pulmonary ventilation. For more than 40 days, the ventilator assisted his breathing.
"The day I saw him entering the ICU for the first time, I didn't even have 1% of hope", admits Dr Harish as he recounts that he has unfortunately experienced many cases like this, and they rarely recover. "I explained to his wife the gravity of the situation, and I told her more than five and more than six times that her husband was not going to survive. I wanted to prepare her, but she never lost hope", explains the doctor.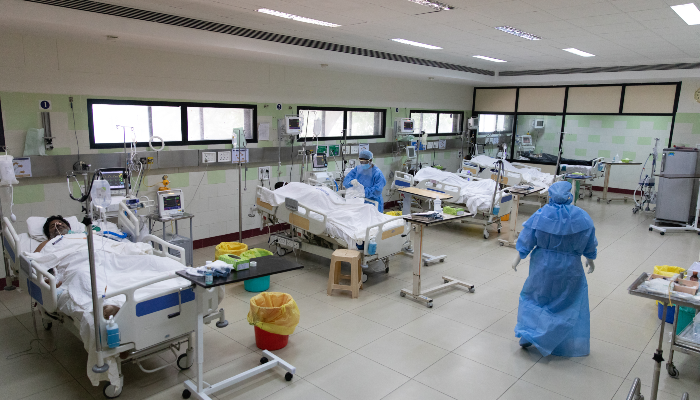 TO RESIST ON THE OTHER SIDE OF THE WINDOW
Sharmila*, Kishore's wife, was not going to give up. Day after day, without rest, she would get up at 3 in the morning to pray. Two, three hours of prayers before boarding the bus towards Bathalapalli. And once in her seat, she continued. "I prayed to God to find a way to save my husband, no one trusted in his recovery… In the village, everyone already thought him dead, but I couldn't even imagine it. I need him. My children need him, we are a family, without him, we cannot go on", asserted Sharmila with shaking hands.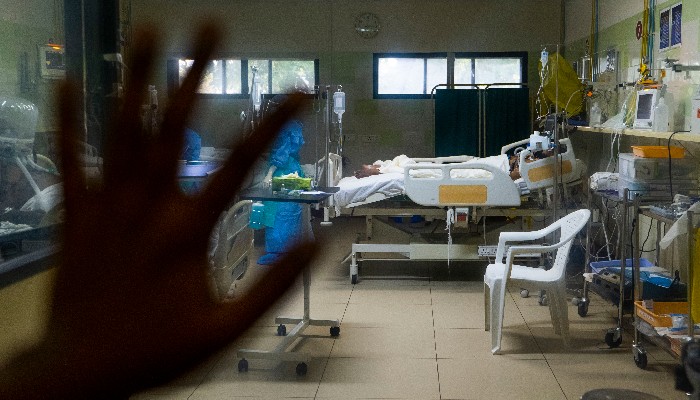 She left home every morning to go to the hospital, without exception. She knew that she could not get close to her husband, sometimes not even see him from afar, but she could talk to Dr Harish to find out his health progress. "There were days I would let her look into the ICU window so that she could see her husband," explains Dr Harish. She put her hand on the glass, and although her husband could not see her, she would encourage him with gestures and signs. You are very strong, she would tell him. The children and I are with you, she repeated. And the nurses would explain to her husband that she was there, conveying all her support. "We made sure Kishore knew that his wife came to visit him every day," explains Dr Harish.
One morning, when Sharmila had already lost count of the days she had been taking the same bus to Bathalapalli, the doctors received her with various papers that needed her signature and consent. Her husband needed a percutaneous tracheostomy – a surgical procedure to create an incision in the windpipe and insert a tube to facilitate air flow to the lungs. "I took the papers, signed them, and all I could do was to pray for everything to go well", she admits.
Thirty minutes later, the surgery was already over. Everything had gone well, but Sharmila was still nervous. Dr Harish decided to make an exeption, gave her a Personal Protective Equipment and let her sit next to her husband inside the ICU. Sharmila felt happy, it was the first time that she was physically close to her husband and that he could hear her voice. She shared her courage and hope and reminded him, like every other day, that he would soon recover and be able to hug their children again. "It was strange because I was happy to be by his side, but I felt more scared than ever. I saw that he had lost a lot of weight, it was not even half of what he used to be", Sharmila states with concern.
The days passed, and Kishore remained connected to the tubes. The woman kept sending all her strength through the window. Day after day. And suddenly, a cardiac arrest. The tube that helped him breathe had blocked. The doctors did their best, and he survived. Sharmila did not lose hope. Days passed, and she was still there. She would talk to the doctors and urged to not give up on him, assuring them that her husband would not either. Kishore suffered a second cardiac arrest. "I was terrified, the patients who shared the ICU room with my husband were all dying. I didn't want to lose hope, but I was very scared", confesses Sharmila. A third one. "He suffered three cardiac arrests, the last two due to secondary infections, which become one of the greatest dangers when patients are so weak," explains Dr Harish.
IN FRONT OF THE DESCENT OF THE SECOND WAVE
Today it has been 18 days since Kishore left the ICU. "The first thing I saw when I woke up was my wife. Together we called my children, and although I still couldn't speak, I could hear their voices", Kishore explains with tears in his eyes and a sincere smile. Since he left the ICU, the children call him at least ten times a day. They want to make up for all the time they could not be together and not waste another second. They ask him all kinds of questions, they want to know everything. How are you? What have you eaten today? What medicine have you taken? Has the doctor come to see you? What did he say to you? They want to know that everything is well and that he will soon be coming home to them. "The children have suffered a lot. They have spent a lot of time alone because I had to come to the hospital", Sharmila explains. Her closest neighbours have offered essential support to the family during one of their worst phases. They have given them food, played with the children, and organized joint prayers, regardless of the religion, with the unified intention of getting Kishore to recover.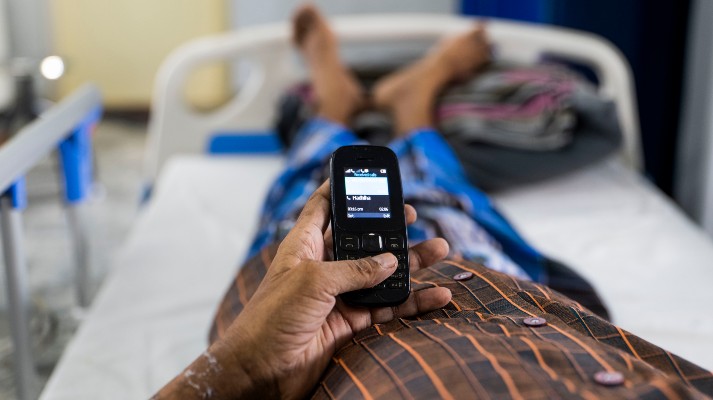 "Days after leaving the ICU, my oldest daughter asked me when I could go back to work", explains Kishore as his voice breaks. Doctors have recommended him complete rest for at least 3 months. He has to regain his strength, his body has suffered a lot. "I told her that at the moment I will not be able to work, and she told me not to worry, that she would not mind eating only one meal a day instead of three if I could recover instead". It is essential for him to be able to provide for his family, to be able to feed them. But now, he wants to prioritize taking care of his health, and he trusts that someone will support them in order to get nutritious food.
For 57 days, Kishore has been hospitalized in the Bathalapalli Hospital. He was infected, admitted, and resuscitated 3 times, while the same suffering that he and his family were experiencing affected more and more people every day. On April 8, 2021, India reported 1.3 lakh cases that became more than 4 lakh a month later. All the hospitals in the country were overflowed, there were no beds, there was no oxygen. Just suffering. "In the ICU, more than 60% of the patients have not survived and they were not even elderly, the average is about 35 years", explains Dr Harish while comparing the figures with the first wave, when more than 65% of the patients recovered. "It is devastating to see patients die without even being able to do anything to save them. But when we couldn't take it anymore, my colleagues and I went to visit Kishore. When discouragement got us, he was our inspiration", Dr Harish says while nodding.
"Today, we have all come to say goodbye and celebrate Kishore's new anniversary, the beginning of his new life, his third reincarnation," says Dr Harish as he jokes with the doctors who have cared for him during his long recovery. Sharmila smiles and thanks the whole team for the medical and emotional support they have given them. "If he has recovered, it is thanks to you, to your optimism. The days he listened to your voice, his saturation levels increased", says Dr Harish as he winks at Kishore and tells him that he has a very strong woman by his side. Laughter and excitement fill the room, and as Sharmila bends down to pick up the backpack, she tells the doctors: "Tomorrow you won't see me get off the bus anymore. Today I am going home with my husband, and I will make sure that he does not come back".
*These names and identifying details have been changed to protect the privacy of individuals.
Text and photos by Núria Navarro