Adinarayana and Narasamma are a couple from a Basampalli, a village in Bathalapalli region of Anantapur. They have come a long way together as a family from struggling for daily meals to now leading a life where they can sustain themselves and fulfill their dreams of building a house. It has been a tough journey for them but they are finally at a stage where they are living the brighter days of their life.
1. How was your land before?
I was cultivating only groundnut and was dependent on rains for irrigating them. It went on like this for 20 years. Then RDT started the rainwater harvesting program in our village. At the same time, they also gave me mango saplings. This happened 18 years ago. I tried to make the plants survive by watering them with pots but the survival rate was poor.
8 years later, an RDT staff member came back to our village and recognised me. I told them about the water scarcity in my field. They supported me with a drip irrigation system and solar pump set. I dug a borewell in my field and contributed Rs. 15,000. I started growing sweet lime, mango and sapota (chikoo) as I would have an assured income through any of the three fruit crops every year. Now the harvest is great and we earn a good income.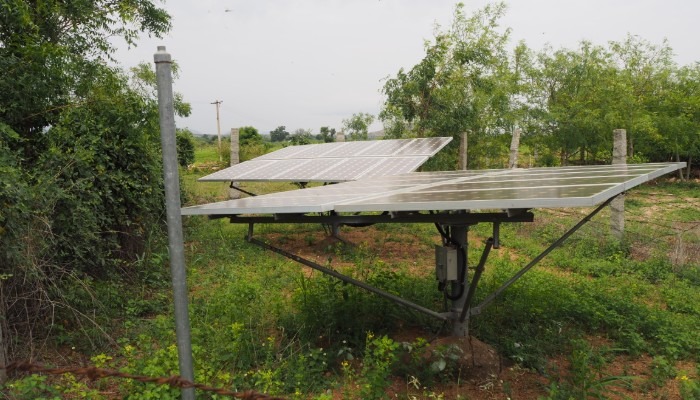 2. Did this change your work and life?
Yes, definitely. After the drip irrigation and solar panels, I have been spared the trouble of watering the plants by pots. All I have to do is switch on the motor. Earlier we had to work as daily wage labourers in others' fields and we were mistreated by the landlords. I also had bullocks and cart that I offered to be hired. Now I am providing work to others in my field.
3. What other improvements came in your living conditions?
We used to live in a hut but today I am building my own house in the village. That was my dream and now I am able to fulfill it. In the past, we struggled for food and work. Now we live comfortably. My children studied through RDT's education programmes. My eldest son pursued engineering and is working now. My second son just completed is preparing for his graduation now while temporarily working as an electrician.
4. How was your own childhood? What struggles did you face?
Our childhood was all about work. Our parents used to bring some food from their workplace and give it to us but there were some days when we would hungry. It is now that we are really enjoying our life.
5. What is the most important thing in your life now?
When we look at how our son is doing, his job and family, we feel very happy. Both my son and daughter-in–law are in the same field of work. That is the real wealth of our life. We want our children and grandchildren to go forward in life. I also want to complete the construction of my house as soon as possible.
6. What is RDT for you?
RDT came to our village first with the supplementary school project. Some villagers got to know that RDT started a watershed program in our neighbouring village, Kanumpalli. That is when our village approached RDT and requested them to facilitate the same program for us. RDT invested in an percolation tank, horticulture projects, drip irrigation and solar pump set as part of the ecology programmes in our villages. They also facilitated housing for many.
As suggested by RDT, we should forget all our differences and work together. We have always followed that in our village.
Text: Aina Valldaura