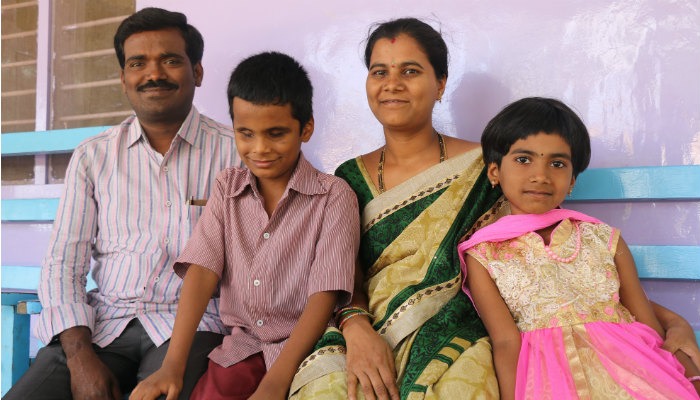 "When I sing I feel invincible," says Sreesanth Naik. At the young age of 10, he has already found his passion. His commitment and dedication led him to participate in the best known musical television programs in Andhra Pradesh: Padhuta Theeyaga.
Sreesanth has been studying at the Primary School for Inclusive Education of the Rural Development Trust (RDT) since the age of five due to his visual disability. With the continued support from his parents and teachers, his disability did not stop him from achieving his dream.
His parents, Munnema and Ramesh were beyond excited for their son to go on a singing show. "When he was younger he would listen to music from my mobile phone and learn all the songs, it was then we realized his gift for music," says Ramesh. Music was also very important in the process of Sreesanth's learning.
When he first joined the Inclusive School he did not know Telugu at all which made it hard for him to make new friends and communicate. However, his teachers soon realized that a better way to teach him was through Telugu songs. This helped him to pay attention and learn better.
The inclusive school has an integrated curriculum where students learn art, dance and have other sports activities, providing an all-rounded education.
In 2017, Sreesanth came across the opportunity to show everybody his magnificent voice to the public. "We saw an ad in the newspaper inviting people to participate in Padhuta Theeyaga, we thought this would be a good opportunity for our son. RDT helped us record a CD with Sreesanth's favorite songs and he was chosen immediately", says his father.
When we asked the young man about his experience he smiled and said: "I was nervous at first but my parents and all the participants from the show made me feel happy and confident." Sreesanth appeared in five episodes and was able to gain recognition and received support from thousands of people. Today it is possible to find all his performances on YouTube.
His parents and teachers are very proud of him, he has set an example for all children with disabilities that they can also achieve anything they want.
"Our son has received so much support throughout the process and we are so grateful to all his teachers and friends. We want him to continue his passion for singing. I am a teacher and I know how important education is for a child's future," says his father.
Sreesanth knows that he is still very young and that he must finish his education, but when asked about his future, he is clear, "I would like to become a professional singer once I grow up and complete my education."
Text: Constanza González B.