The first convoy of emergency aid and a medical team left the organisation's headquarter in Anantapur on Sunday 27th November
Rural Development Trust has set up two teams to provide emergency relief materials and medical assistance to the worst-affected families by the floods occurred last week in in Chitoor and Nellore districts. The organisation has taken the decision to step in and support the efforts of the local authorities and NGO's in the area after RDT's delegation visited the affected areas.
"We are ready to join the efforts already being put in the areas by the Government authorities, local organisations and civil society in relieving the suffering of the impacted people. We are guided by the value of solidarity among people working hand in hand. We are here to support. Andhra is our state. It is time to help," stated Ms. Anne Ferrer, minutes before the first emergency convoy left from Anantapur to the affected areas on Sunday 27th November.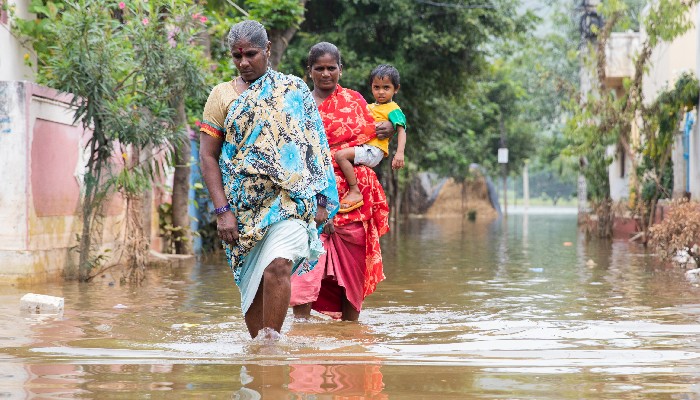 "Right now the priority is to provide blankets, towels, mats and food grains to the families and ensure the wellbeing of the people. Due to the lack of safe drinking water and the polluted water from the sewages many are at risk of developing health problems, such as skin infections, diarrhoea and other mosquito transmissible diseases", stated Moncho Ferrer, RDT programme director.
"We have been at the frontline in mitigating the impact and alleviating the suffering of people during natural disasters, such as the 2015 Hudhud cyclone, the Kurnool floods in 2009 or during the Gujarat earthquake and the tsumani in Chennai. This time is not going to be different", emphasised Moncho Ferrer.
Two teams, comprising of 22 RDT staff, have been dispatched to the affected areas of Nellore district and Tirupati urabn and rural areas to provide immediate relief. A medical team from RDT Bathalapalli Hospital, led by Dr Manoranjan joined the convoy.
According to the Andhra government statement and the  Central Government authorities who visited the areas, about 1,990 villages and a population of about 2.31 lakh have been affected by the heavy rains in Kadapa, Chittoor, Anantapur, and Nellore districts. The heavy rains occurred between the 19th and 20th November and have caused crop loss, property damages, and the loss of lives in the worst cases.