27-year-old Nivedita*, in the ninth month of her pregnancy, just a week away from the delivery date travelled 76 kilometres to RDT Kalyandurg Hospital for a checkup and tested positive for COVID-19. "My family and I were tensed and uncertainty was in the air when I tested positive for COVID", says Nivedita.
When the pandemic hit India, the gynaecology department of RDT Bathalapalli hospital took steps to serve as many women as possible. To minimise the movement and provide healthcare, telemedicine was launched during the first wave, through which teleconsultations were being held to help pregnant women who used to be treated in Bathalapalli and also who were suffering from COVID. As time passed the virus mutated, infections increased. The pandemic took an ugly shape and the second wave of COVID hit the shores. 
People who tested positive flocked at the triage of Bathalapalli hospital. Among them were youth, old aged and pregnant women. Nivedita too travelled to Bathalapalli after she tested positive for COVID in Kalyandurg. After going through the triage she was admitted into the hospital as she reached her term. Patients who are low on oxygen saturation are admitted and those who show mild symptoms are suggested to go for home quarantine.
When Nivedita reached her term, she was shifted to the labour room from the COVID ward where she was being attended by another nurse, Sheela* who was also in the 9th month of her pregnancy.  For Sheela, her family did not want her to work in the COVID hospital, as they were scared that she might get infected too. "My family is afraid that I might get infected and they don't want me to work with COVID patients. But these are tough times. There is great pressure on the healthcare system. The hospital is fully occupied and as a professional I can't leave now. I need to be here and help people. I did not tell my family that I'm working in the labour room with COVID patients and I'd like to continue this duty until I reach my term", says Sheela.
Sheela lives in the hostel along with many other nurses.  She was active in giving care to the patients during the first and second waves of COVID. "Being pregnant and staying away from family is tough but we have a great team who support us. I've been working here for 3 years. We were scared like everyone when the hospital was made into a COVID hospital but our doctors and administration trained us on how to protect ourselves", says Sheela.
A week after admission into the hospital Nivedita delivered a healthy baby boy. "We knew that good care will be provided at Bathalapalli Hospital and my family and I had faith in them," says Nivedita. Talking about the baby and the mother, Kanthamma, mother of Nivedita said, "We were scared when she tested positive for COVID. We were scared that the baby might get COVID but the doctors counselled us."
"Many mothers are afraid that their babies might get COVID. Infants do not develop immunity for a week so there is less risk as there would not be any immune response, in case affected, it might lead to viral pneumonia. And the mother must feed the child, if not fed, it might affect the child more than COVID. We suggest all mothers wash hands, wear masks and feed children", says Dr. Jyothi.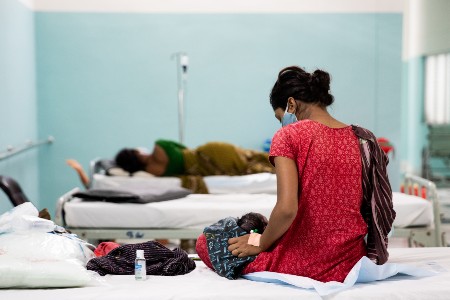 Around five pregnant women are serving COVID-19 patients by working in different departments in various positions at the hospital. "I felt happy and proud to see women working in the COVID labour room while being pregnant. Sheela is service-minded and I thank her for the service she's doing to people", says Nivedita. For Sheela, it is an experience to learn more and give better care to the patients. "I can empathise with them and feel how they feel. This helps me to understand their situation well and give the care required", says Sheela. 
In a month of being reappointed as an exclusive COVID-19 hospital, RDT Bathalapalli hospital treated 95 pregnant women with COVID and delivered 61 babies through normal and sectional deliveries and continues to do so.
*These names and identifying details have been changed to protect the privacy of individuals.