There is no place where Mounika is more comfortable than on the football pitch. Originally from Atmakur, a town near Anantapur, this 20 year old has opened new doors for herself since she joined the football programme at the Anantapur Sports Academy (ASA) whom RDT partners with to advance opportunities and inclusion through sports in rural India.
Daughter of daily wage labourers, she has overcome all obstacles with much effort and courage to become the first female coach at the Atmakur Development Sports Centre. Currently she is in her final year of Bachelor's in Arts and wants to further pursue a 2-years Physical Education course.
She stands out as a clear example of the transformative power of sports in rural India.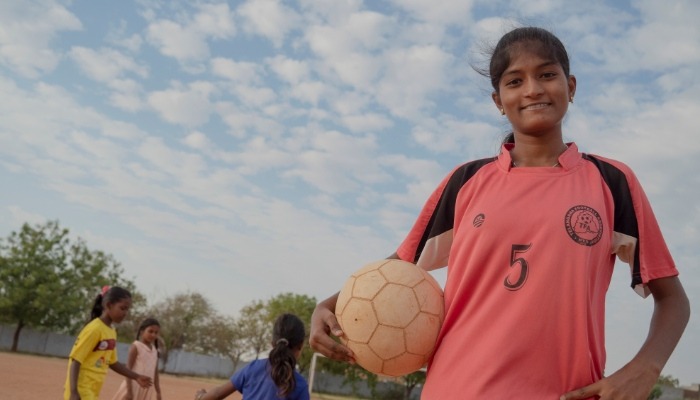 How did your relationship with football begin?
Since I was a child, at school, I liked to participate in all the competitions and sporting events that were organised. One day a coach from ASA came to explain the project to us and I didn't hesitate for a second. I wanted to play and learn more about football. I knew I could do it well.
Have you had any problems because you were a girl?
At first, my mother was very happy but after a year when I got my period for the first time she changed her mind. She told me that there was no need for me to keep playing. I felt very sad…I had learned and improved so much in just one year! How could she tell me to just leave it? Luckily, thanks to my father's support and the advice from the coach, they let me play again.
What did it mean for you to enter the FVF grassroots football program?
Since the beginning it was challenging to cope along with my studies because we trained for about five hours a day. But I kept pursuing it because I love playing and training. I was a girl who had never left my village and suddenly I had the opportunity to play in other cities. Thanks to football I have learned and grown a lot as a person and I want other girls to do it too.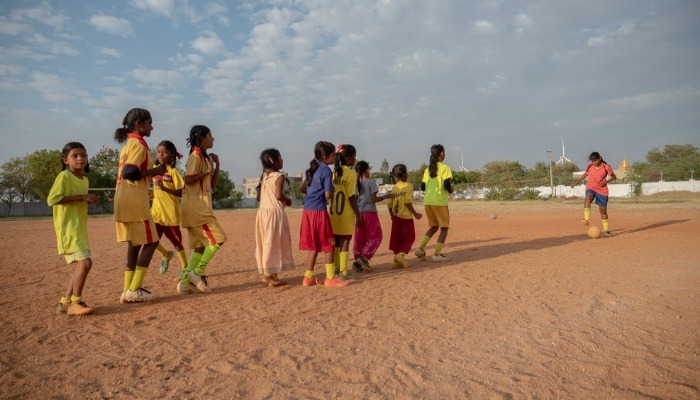 And that is why you became a coach?
Yes, I am very happy and proud that I have this opportunity and that I can somehow be an example for other girls. I love helping them and solving their doubts and seeing that they are focused and motivated to improve day by day.
Apart from the technical aspects, what else do students learn through football?
Firstly, the importance of teamwork and commitment.  I have to repeat often that they should not argue or fight among themselves. I also focus on the importance of unity, team work and respect for all. Sports is essential for their physical and personal development. They have fun and also learn a lot of things.
What will it take to continue promoting sports among girls in rural India?
We must continue working through awareness talks and meetings with families, coaches and the girls themselves. At the beginning, the majority of participants in the sports programme were boys and there were no female trainers, but this has been changing slowly. Without going any further, the number of girls who play football has tripled this last season and the Anantapur Football League, which did not exist when I started, is now a great opportunity for them. Women's sport will continue to grow because the struggle for equality and the empowerment of women has no brake.
Text: Oriol Petit
Pictures: Cristòfol Oliver