Most of us are full of ideas and dreams and are pursuing to check them off the list. For Madugula Bhavani, it was crucial to follow her dreams and serve as an example for young women from rural towns like hers to create a better future.
Bhavani hails from Elamanchili, a small town in Andhra Pradesh. She shifts from her timid persona and becomes a confident young woman when discussing her experiences and exposure to sports. The 20-year-old Indian Junior Hockey Team forward participated in her first India game on September 21.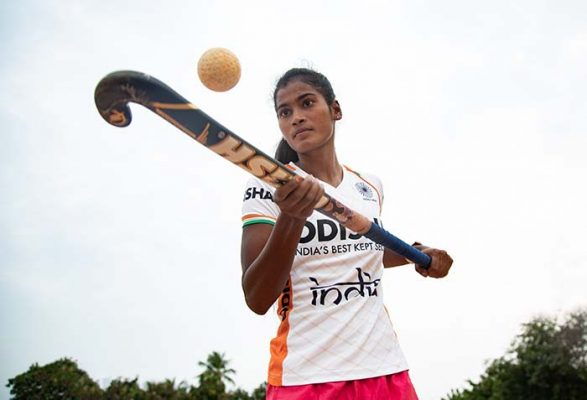 "I took up the sport when I saw my brother playing with the hockey stick and enjoying himself. At first, hockey was a means to end my boredom. When I got pretty good at understanding the game, I went to the trials held at the Anantapur Sports Academy (ASA) in 2015 with another friend from my village. I think ASA was where I found the path to realize my dream of being a hockey player." says Bhavani. 
Her parents, both daily wage labourers, were not keen on sending her to a residential sports academy. Still, the encouragement and support from her coach back home and friends helped her parents believe in her capacities and her passion for the sport.
"The help from the seniors made me believe that sports could be a viable career option if I put more hard work and practice into my routine. The access to quality coaching, infrastructure and the diet I got from ASA helped me and became stepping stones in my journey with hockey. The staff at ASA constantly reminded me that it was important to be goal-oriented, helped me maintain a level of integrity towards sports, and improved my attitude towards life. I am thankful that I reached the right place from the beginning. I am grateful that I had come to the right place, or else it would have been a different story," says Bhavani.   
Bhavani says that the Anantapur Sports Academy is her home ground, which has helped her move forward in life. After leaving ASA, she spent five years in the National Hockey Academy, which helped her elevate her career at a quick pace. Bhavani beams while talking about the countries she has visited- Holland, Ireland and Bangladesh and remembers that her kit got lost in the luggage and how it took a long time to get hold of it until she played the finals against the Netherlands. "That was quite memorable", she adds. 
When you play a game and sweat out your doubts, you understand that hard work and dedication towards a sport will always help you move forward in your life with hope. Getting into the National Hockey Academy and visiting other countries have been ticked off one by one, but she still thinks there are other goals for her to achieve.
"I want to make it into the Senior Indian Hockey Team", she adds and smiles. 
"All my dreams have unfolded before me, making me happy. Being a sportsperson has helped me in many ways. It gave me the confidence to develop myself and learn essential life skills. Looking at myself as a rural woman moving ahead with life, I believe anyone can attain opportunities that have come my way. The circumstances one is born into do not determine one's future," exclaims Bhavani.   
Keeping her kit and hockey stick in hand, gearing up to practice, Bhavani says, "I assure you that we all have the capability of turning these dreams into reality. I wanted to assure you that if these dreams that I had when I was a little girl can come true, there is still hope for everyone to dream and never to give up." 
Text: Mathusree Menon