"Hold the baby close to you and support their back and neck. Don't rush though. Be gentle," explains Chandra to Sunita who gave birth to twin boys 12 days ago.
Men advising new mothers on how to take care of their babies is not a scene we usually encounter but this is Chandrashekar, fondly known as Chandra, who is a therapist for the Early Intervention programme at the RDT Kalyandurg Hospital campus.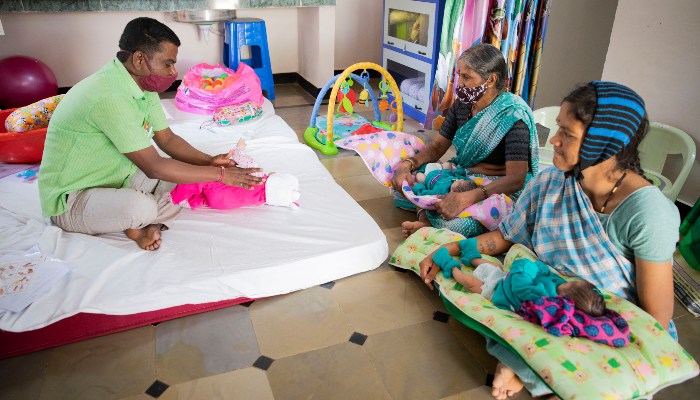 After Sunita gave birth at the RDT Kalyandurg Hospital, one of her babies has been experiencing difficulties in breathing as well as in being fed and has abnormal sugar levels in the blood. This is when the staff at the Kalyandurg Hospital referred her to Chandra for consultation.
"At this centre, we work with pregnant women and new mothers, and babies between 0-2 years for developmental delays, who show signs of cerebral palsy or intellectual disability as well as risk pregnancies, feeding issues, etc.," says Chandra. These babies and mothers are mainly referred to him by the RDT Kalyandurg Hospital or by RDT staff who encounter such cases during their field work. Sometimes parents also come for consultation by themselves.
Today, during this first consultation, Chandra has been going through the medical history of Sunita and the babies. He is advising them on how to hold and lift the baby, especially while breastfeeding, what position to hold them after they are fed, what soothes and calms the child, etc. Through regular sessions, Chandra will work with the mother on the progress of her baby.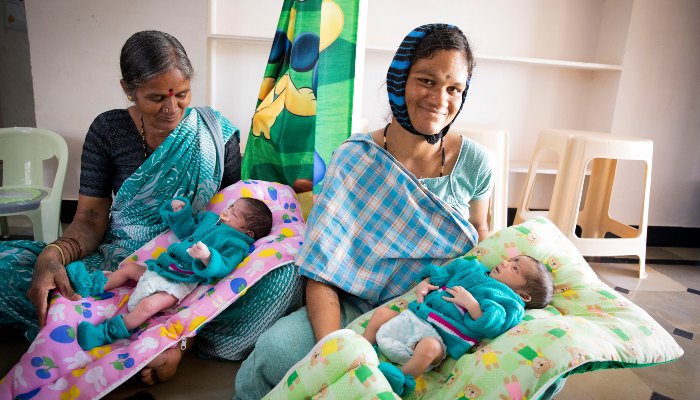 "I was very worried about my son's health. After coming to the centre I feel a bit relieved. I am sure with proper care and therapy he will soon be alright," expresses Sunitha.
The Early Intervention programme was started by RDT's Disability Inclusive Development sector over 12 years ago and has continued to evolve since then. The programme, including this centre at Kalyandurg was closed during the pandemic and was reopened in September, 2020. While Chandra works Monday to Saturday attending babies at this centre, other therapists provide home therapy and organise intervention camps in the villages in the RDT project regions.
"I generally attend to a minimum of 6-7 cases on a daily basis but on some days it goes up to 11. They are usually new or follow-up cases," says Chandra.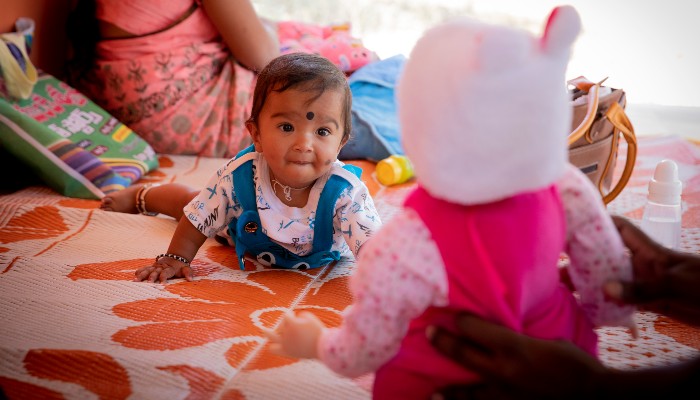 Like Triveni and her 8 month old baby who has been coming to the centre since November 2020. Born at 32 weeks – a premature birth – the baby was experiencing developmental delays and a relatively slower physical growth. She has been receiving therapy to strengthen her muscles and improve her movement. After learning from Chandra at the centre, Triveni continues the exercises with her baby at home to keep up the progress.
"There has been considerable changes in my baby's development after starting therapy. I feel so happy when she tries to crawl all by herself," says Triveni.
Not just from nearby areas, but parents also bring their children from neighboring cities like Uravakonda, Kanekal, Bellary and Paogada for consultation and therapy. So far, Chandra has worked with over 174 kids since the centre reopened in September.
"Parents come to the centre worried and stressed that their babies are experiencing problems but they also place their trust in us. When we regularly work on therapy and exercises, parents become elated to see the small steps of progress that their babies make. It gives me immense joy," shares Chandra.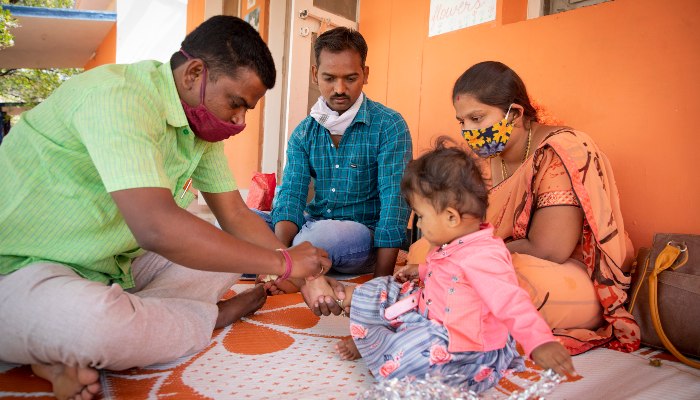 This stands true in the case of Gananya, a 14-month old. She was experiencing developmental delays after undergoing a surgery for excessive build-up of the fluid that surrounds the brain and spinal cord when she was 2-months old. Since October 2020, Chandra has been working on strengthening her muscles and providing play support and stimulation.
"After three months of therapy, we were overjoyed to see Gananya use support to stand on her feet all by herself. It gives us so much happiness to watch her grow," the parents express with wide smiles.
Text: Felita Viegas, Tahiya Tarannum S