With gratitude filled in eyes, hands folded in namsate, people bowed down at the feet of Vicente Ferrer's effigy at RDT Kalyandurg field office, after adorning it with garlands of fresh flowers to celebrate his memory on his 12 death anniversary.

© Dyuti Khulbe/RDT
More than 50 years ago when Vicente Ferrer and his team arrived at Anantapur, the land was barren. The trees and plants were sparsely scattered around the region. Anantapur was and still is the second most chronic drought prone area after Rajasthan. Through the extensive work by the Rural Development Trust co-founded by Vicente Ferrer in 1969, the efforts towards a more greener Anantapur started.  "Vicente is always alive in all our hearts and always remembered for his life dedicated to other's happiness", expressed Ms Anne Ferrer, RDT'S co-founder and his wife. 
40 years after his selfless service for the cause of humanity in Anantapur, Vicente Ferrer breathed his last on June 19th 2009. 12 years after his death, his legacy is carried on. Every year on June 19th, his death anniversary is observed as 'Plantation Day' by the RDT. This year, to honour his dream 'to make Anantapur' green, tree plantation drive was organised across six regions. 1,25,140 plant saplings were distributed on 19th June 2021, in an awareness drive held across Madakasira, Kalyandurg, Kurnool, Dornala, Kadiri and Adoni regions. "My father, Vicente Ferrer, never allowed anyone to cut a tree and always said to everyone plant as many trees as possible", remembered his son, Moncho Ferrer.
Considering the manifold benefits of trees, including that they help in maintaining ecological balance, providing oxygen and improving soil health, this year 1,10,000 Coconut, 3,940 Guava, 6,000 Conocorp and 5,200 Acid Lime saplings were distributed. The saplings that were distributed were in accordance with the climate of the region and people's requirement. "Coconut trees are easy to plant. They take up less space and quickly adapts to the climate", stated Lakshman Rao, Regional Director of Kalyandurg Region in RDT.
According to Lakshman, the plantation day is very successful every year as the survival rate of the distributed saplings has been 80% up till now. "The market price of these plants are up to 250 rupees however, we encourage people to take ownership of the plants so, we have asked them to contribute ten rupees per plant", he explained.
Dressed in their festive clothes and charged with enthusiasm, people in all the six regions came out to participate at plantation day in huge numbers while following the COVID-19 measures. "Vicente Ferrer is my Godfather. It is because of him that I have a good job now", said Govinda Raju, senior software engineer. Raju is also an alumnus of RDT School of Professional Languages who aced learning the French language. "I give credit for my success to Vicente, if it were not him, I would have remained unemployed", said Raju who took 50 plants home to honour Vicente Ferrer.
The plant distribution programme was visited by the Corona demon as well. "I anticipated that people will gather here to honour Father's memory, so I decided to pull this act to remind them to wear masks and maintain social distance", said Vihari Babu, security guard with RDT, who also impersonates demon of coronavirus as a part of this unique awareness technique. "I have taken ten plants for my house, last year I had taken 20. My children and I like to plant trees and I believe this will also encourage them to plant more trees in the future", he continued.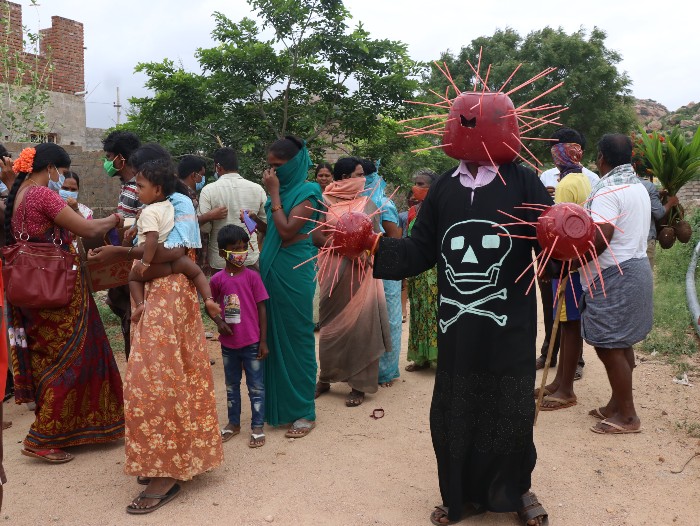 The plantation day programme was also very well received by the children who seemed excited to take plants back home. "I will plant these trees at the entrance of my house because I know they are important as they give us shelter, food and oxygen", said Amin, a ten year old boy with glimmering eyes who took two plants with him. "Last year, I took one plant and I looked after it. Now it has grown up as tall as I am!" said Amin cheerfully.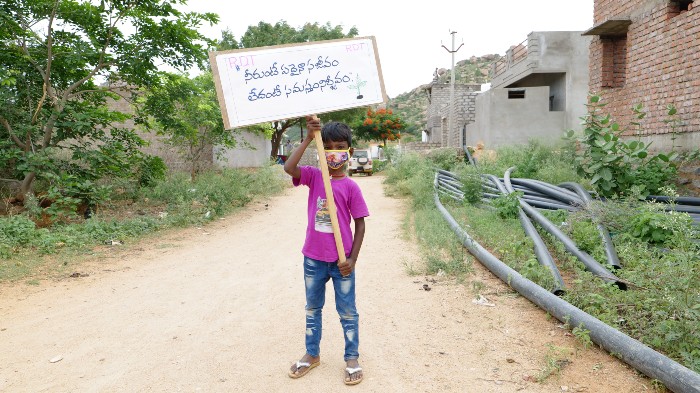 Many people who took part in the programme were keen on decorating their houses that were provided by the RDT. "We are five friends, we all are farmers. We are taking ten plants each to plant at our new houses presented by RDT. These trees will enhance the look of our houses ", said Maruthi, a Farmer and Community Development Committee (CDC) member.
After witnessing an unrelenting oxygen crisis in the country, the tree plantation programme offered a ray of hope as many participants too acknowledged the significance of trees and oxygen.
Text: Dyuti Khulbe/RDT