In cricket, hitting every ball with force is essential to send it to the boundary line and score as many runs as possible. This is precisely what Anusha Bareddy has applied to her life, batting and bowling away all the criticism and obstacles that aimed to limit her passion for sports. At 20 years old, she has just achieved her biggest run: debuting in the Indian Women's Cricket Team. Today, she proudly represents the nation at the 19th Asian Games being held in China.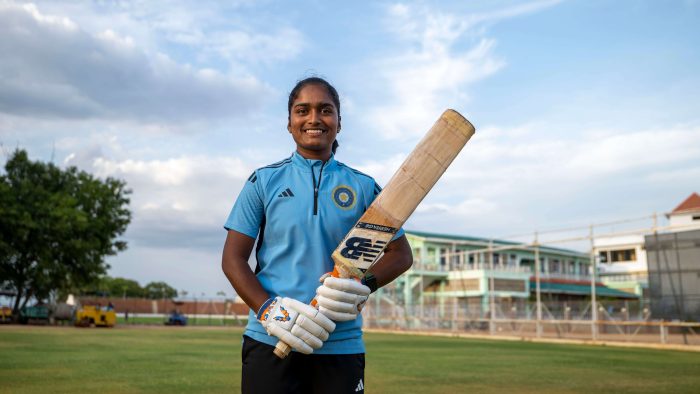 Her rise has been remarkable: after making her mark with the under-23 team and winning the Asia Cup in June, she was immediately selected to compete with the senior team a month later in Mirpur, Bangladesh. Some 2,000 kilometres away, her parents, Lakshmi Devi and Malli Bareddy, watched her impressive debut on TV in Bandlapalli, their hometown. "When they handed Anusha the national team cap, I got goosebumps. But halfway through the match, we had to go work on the farm, which is our source of income," comments her father, a farmer by profession. 
The fields her parents cultivate are the same ones where Anusha used to work every summer. But the day her Physical Education teacher at school discovered her skills, she definitely swapped the shovel for the bat to become the first female cricket player from the Anantapur Sports Academy. Her journey through the academy has paved the way for many other girls in this sport. "The cricket program for girls started with me; there were no other female players. Two years later, my first teammates started to arrive, and now we have a whole team. That's the change we've achieved," she says contentedly.
In just two months, she has travelled more kilometres than in two decades. She has lost count of the times people scolded her for practising sports and training with boys. But she considers herself fortunate: at home, she has had their unwavering support from the beginning. "My parents have always ignored the village gossip. They give me freedom and motivate me," she adds.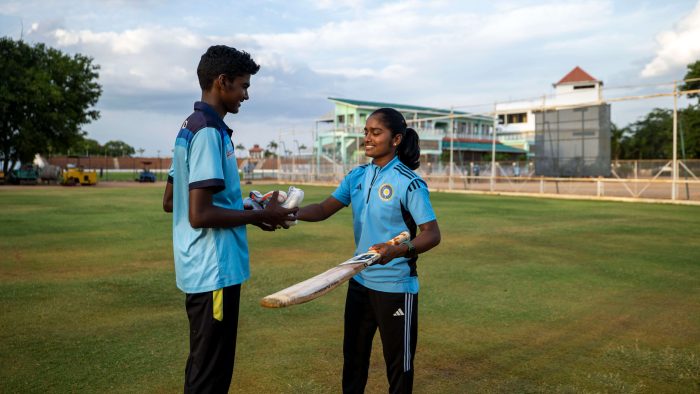 "When I arrived at the academy, my family had a lot of debts. How was I going to buy cricket gear? RDT has supported me a lot, and they still do," recounts the athlete. Accompanied by her textbooks during training and travels, Anusha is on the verge of graduating in computer accounting. Playing cricket has enabled her to pursue higher education, an option she thought was impossible before joining the academy.
Sports transform the playing field into a safe space that disruptively and peacefully promotes women's leadership and participation. The values, inclusivity, and equality learned on the field transcend beyond it. "At first, the boys kept their distance from me, and I felt uncomfortable playing with them, but now we all mix well; I feel more confident," the young woman recalls.
Emerging as the most famous left-hand spinner in Anantapur, Anusha Bareddy has become the icon of a new generation of female cricketers from Andhra Pradesh who dream of achieving what she has. Her success is not insignificant: she has shown that, at 20 years old, a woman from a rural area can continue studying and build a career. Bowling out insecurity is the first step. "To the girls, I would say that fear is what prevents us from growing and improving. We can't showcase our talent if we move with fear. We will only achieve results if we rid ourselves of it," she adds.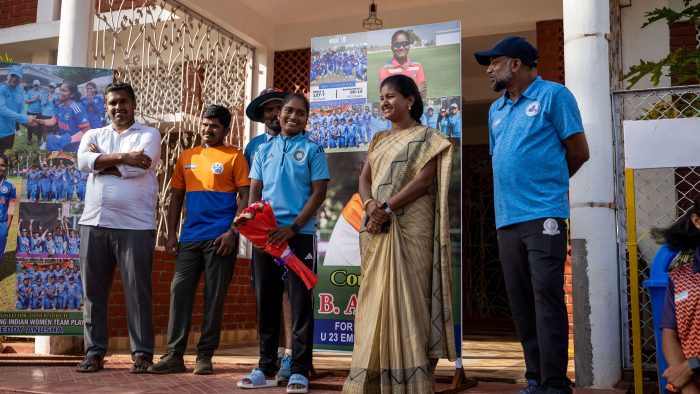 Text: ©Eva Galindo Soriano
Interview and Images: ©Katia Álvarez Charro