"I am happy and satisfied. The students and teachers have overcome many obstacles since the lockdown started and have reached this point," exclaims Geeta, the principal of the RDT Professional School of Languages. The students of this school who hurriedly left for their homes when the lockdown was imposed in March finally completed their exams.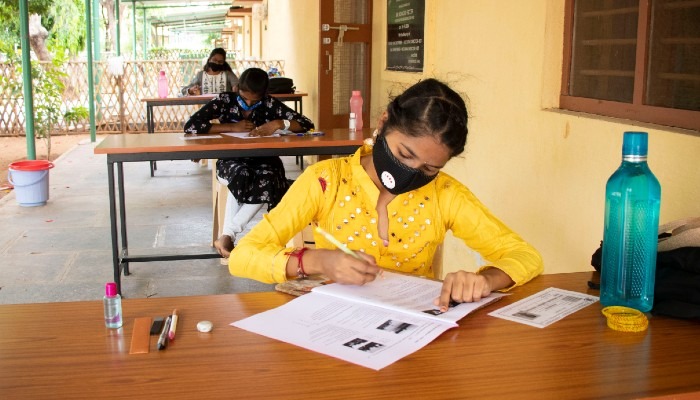 Students who studied German, French or Spanish, as well as work on their English and soft skills here completed their exams which were held on the 6th, 7th and 8th July. "We have kept all social distancing rules in mind to make sure everybody is safe during these exams. They are required to bring their own material, including their own sanitisers. We have arranged the desks accordingly," says José Antonio, the course co-ordinator.
To say the least it has been journey of ups and downs for them. The 101 students, who having completed almost 7 months in the residential setting had to leave all of it behind, many with a heavy heart. From then on, they started online classes, like the many other schools and institutes but it came with its own set of problems.
"At the Professional School in BKS (Bukkarayasamudram) I didn't have any problem to study because we had our teachers and peers with whom we could easily communicate face to face. But many of us live in remote villages and we have network issues. Living with the family also means disturbances during the class hours," says Usha Rani, who hails from a small village in Kadiri and studied German at the school. "I used the phone to refer to the notes and resources and to attend classes but my mother used to get angry because she assumed I was playing games on my phone. I have prepared and tried my best for these exams but it has not been easy."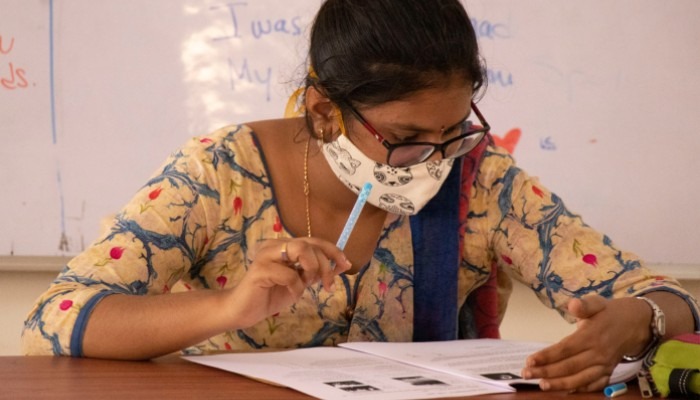 The network issue caused a hindrance for most of these students who reside in villages in different regions. "Initially we were not satisfied with the way things were going because students were complaining of connectivity on their phones, the rapport was not the same as in the classroom. It was a new method for everybody. But slowly the teachers and students worked on each aspect together," says Geeta.
Another student, Srikanth, who joined this course after completing his mechanical engineering, expresses his joy on completing these exams. "Earlier, even though the classes were ongoing there was uncertainty looming over us. At one point I thought that conducting these exams would not be possible in this situation. But everything has fallen into place, thanks to our teachers and course co-ordinators."
Having completed this course, they will now competing in the job market, a task that they are all looking forward to. Harshith Gariga, who earlier gave his inputs about the ongoing classes in June excitedly says, "I have shared my CV on many websites and with companies and they have shown interest. I think there many opportunities out there, the only thing needed is our certificates, hardwork and motivation."
Adding to this optimism of the students, Geeta shares, "We were receiving enquiries about candidate requirements for job by the human resources department of different companies even before the exams were conducted. I am constantly sharing the students' CVs and keeping in touch with these companies."
This is moment of joy for all. Contrary to the expectations of many, the academic year has come to an end as it is normally scheduled. "Now that the exams are completed, I have a sense of fulfillment as well as uncertainty.  Fulfillment that we have completed the course and uncertainty about the future, given these times. We have plans to increase the number of students in the next batch because a course like this is crucial in providing skills to rural graduates who have limited opportunities and resources. We are working on planning the best way forward from here," beams José Antonio.
Pictures and Text: Felita Viegas