Observing the 13th death Anniversary of Vicente Ferrer, the founder of Rural Development Trust, 1.8 lakh plant saplings were distributed on 19th June 2022 in a program held across Madakasira, Kalyandurg, Bathalapalli, Srisailam, Bukkaraya Samudram, Kadiri and Uravakonda and Adoni regions.
Vicente Ferrer founded the Rural Development Trust (RDT) in 1969 with a commitment to end poverty and suffering in Anantapur District. After 40 years of dedicated service to humanity in Anantapur, Vicente Ferrer died on 19th June 2009.
Following Vicente's death, every year, his death anniversary is observed as 'Plantation Day' by RDT. "My father, Vicente Ferrer, never allowed anyone to cut a tree and always told everyone to plant as many trees as possible", remembered his son, Moncho Ferrer.
On this occasion, plant saplings were distributed in and across Ananthapuramu, Sri Satya Sai and neighbouring districts to improve the vegetation and horticulture to realise Vicente Ferrer's vision to see a green Ananthapuramu. The plant varieties are distributed based on the demand and requirements of the public. This year, Coconut, Acid Lime, and Curry Leaf saplings were distributed, and everyone is encouraged to take the plantation forward on their own.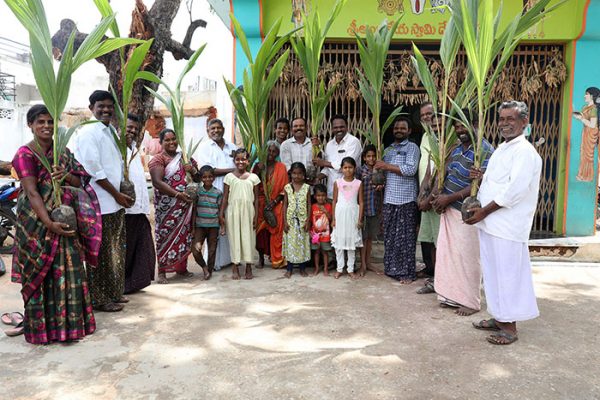 "We remember Vicente every day, but on this 19th June, we will especially remember him by planting 1.8 lakh trees. We must dedicate ourselves to improving the state of our planet and our house. As Vicente used to say, we can not leave the eradication of poverty to only Governments and big organisations. We all play a role in protecting our planet. Climate change is not going to be our next crisis. It is already happening. You, me, we all have a role to play. We can reduce the use of plastic. We can save water. We can save electricity. We can improve how we dispose of our waste. And we can plant trees. There are many things each and every one of us can do. So on Vicente's death anniversary, 19th June, let us remember him. And let us say that each and every one of us is going to play our part of giving to our children and grandchildren that they inherit a cleaner, safer and more healthy life and the planet," said Anne Ferrer, RDT'S co-founder and his wife.
"The plantation day is very successful every year. We have seen a survival rate of 90% in the distributed saplings. We encourage individuals and communities to take ownership of plants," stated Beerlingappa, RDT Ecology Technical Director of Plantation.   The plantation day was also used to create awareness of the importance of trees and vegetation through awareness sessions held at various places.