During 2019-2021, when groups of children with intellectual disabilities received a box full of colourful objects, they became thrilled to see some hues in their lives. The box had items like puzzles on body parts, vegetables, flowers and some board games on alphabets and clock training. These boxes are one of the 1,020 self-study kits that were donated by the National Institute for the Empowerment of Persons with Intellectual Disabilities (NIEPID) to RDT.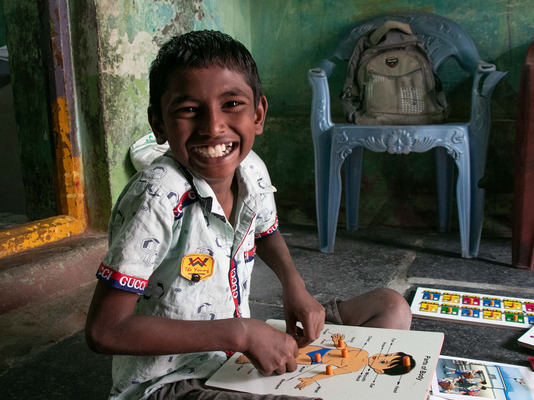 An eleven year old Hemanth from Pamidi village was one of those children who received this self-study kit or a box of toys as he calls it. "Hemanth's progress was constant, but then the lockdown happened. Although we are grateful to the RDT teachers who paid monthly visits, on the other days it was difficult for us to keep him engaged" says Prakash Gaud, his father. This is where the role of self-study kits comes. Each kit consists of various educationally interactive materials that help in increasing their visual and auditory attention span. All the materials in the kits are designed by a team of special educators and therapists.
For two years due to the spread of the COVID-19 pandemic and thus the closure of several residential institutions, RDT teachers paid house visits and identified children with intellectual disabilities who fulfilled the criteria laid by NIEPID, i.e. to submit a copy of a valid disability certificate (with reference to intellectual disability). After the identification, RDT teachers divided the children with regard to kit 1 (for 0-3 age), kit 2 (for 4-7 age) and kit 3 (for 7-11 age), and provided training on how to use the kits to their parents.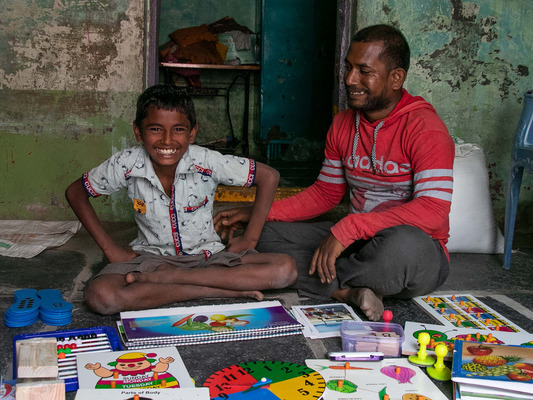 "The moment we opened the box, Hemanth became glued to it!" says his father cheerily. "My wife and I divided days for using the kit to sit with Hemanth. We noticed how easily he became engrossed with the materials inside and quickly grasped the lessons that each material taught," continues his father.
In the same village of Pamidi, like Hemanth, nine years old Sai Mokshitha too uses kit 3 for her lessons every day. However, along with intellectual disability, she also suffers from cerebral palsy. Her sister Niharika who is 18 months younger than her is the one who often sits with Sai Mokshitha to revise lessons. "Sai loves to play the number game with her sister! After a few months of using the kit, she can now fluently recite numbers from 1 to 10, can recognise different animals, vegetables and fruits," says her mother.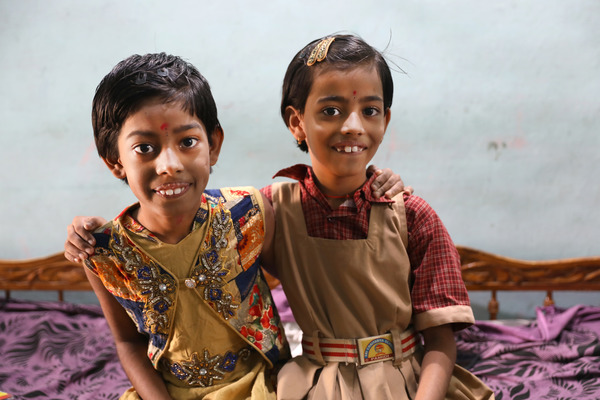 Sai Mokshitha's intellectual disability coupled with locomotive disorder makes her very sensitive. "When Sai was first enrolled in our Kuderu centre, she was hypersensitive. Multiple sounds at the same time or sight of squirrel, cat or dog would make her jump and she cried for hours. She also had extreme difficulty in picking up light objects" explains Yugandhar,  Assistant Technical Director of the DID sector.
Some of the play materials like colourful sticks in the kit are designed to meet the sensory needs of the children, which also enhances body balance and awareness. "Whenever I sit with Sai, I make sure that we play with the sticks as I have seen how better her grasping power has become," says Sreedhar, her father.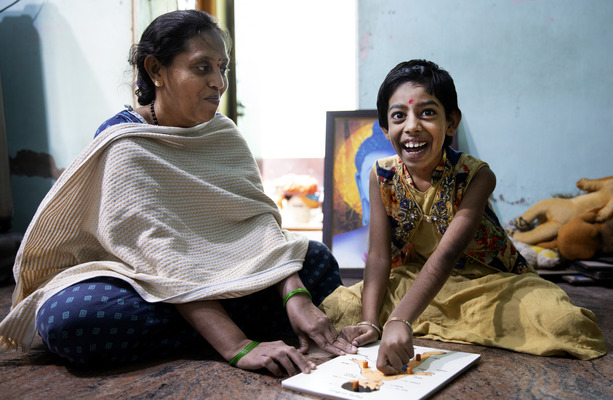 A few kilometres from Pamidi, in the village of B.Kothalapalli, seven years old Jayashree is also amongst the children who received the self-study kits. A child with intellectual disability and cerebral palsy, Jayashree is a fast learner from many of her age and condition. "The major problem we faced with Jayashree was behavioural issues," says Jayashree's mother who now seems satisfied with fidget like toys that kit 2 consists of, which are meant for self-regulation in children. "I might not be able to quantify the degree of improvement in her, but one thing I can say for sure is that she seems more relaxed and less irritable than before!" continues her mother.
As parents, they wish for only one thing- their children to be independent and self-sufficient.
Text: Dyuti Khulbe/RDT