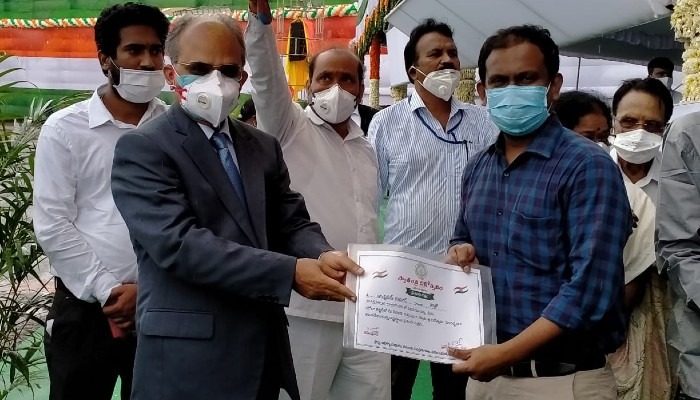 Apart from being awarded as the Best COVID-19 Hospital in the entire state, it was conferred with Best Support Staff.
RDT Bathalapalli Hospital was appointed COVID-19 Healthcare Centre on April 16th, and since then over 3,000 positive people have been treated in this facility.
RDT Bathalapalli Hospital, appointed COVID-19 Centre since April, has received a double recognition by the Health, Medical & Family Welfare Department, Government of Andhra Pradesh, for its commitment against coronavirus. This Hospital has been awarded as one of the two best private hospitals for COVID-19 in the whole of Andhra Pradesh as well as for having the best support staff in the FNO/MNO category.
This morning Dr. Praveen Kumar, Director of the hospital, and Parthu, member of the support staff team, attended the ceremony where the Chief Minister of Andhra Pradesh, Mr. Y. S. Jaganmohan Reddy and other state dignitaries were present. The event took place at the  Indira Gandhi Stadium in Vijayawada on the occasion of 74th Independence Day. Following the Central Government's guidelines, all medal and award ceremonies have been temporarily called off. During the event all the coronavirus preventive measures were followed.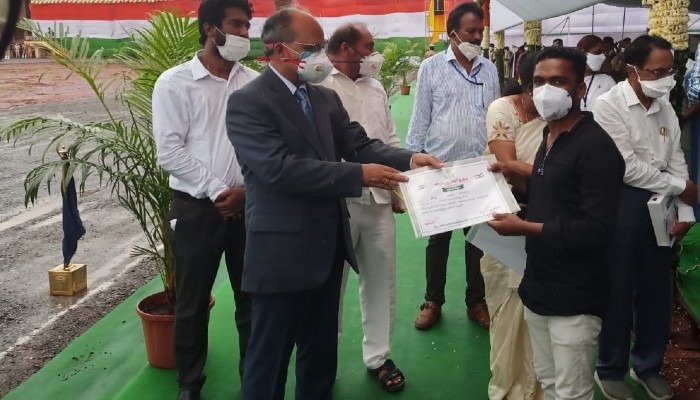 "It is a huge honour for us to receive this recognition, not only because the Government is acknowledging the efforts of our team but also because it is a result of feedback from the patients and they are our priority," remarked Dr. Praveen after the ceremony. "We have a committed team that has been working tirelessly for the last five months. We know that there is still a long way to go but recognitions like this boost the morale of the team," he highlighted.
Anne Ferrer, RDT Executive Director, used to the occasion to point out that: "The recognition that the government is giving us today it is already in people's hearts and minds since months. Let´s continue the fight one day at a time. For every patient who recovers, and for those patients who sadly do not, we have done our best".
RDT Hospital was established in 2000 with the aim of providing affordable and quality healthcare to the rural communities. It is a secondary level hospital with specialities such as orthopaedics, paediatrics, obstetrics and gynaecology, family medicine and offers many other services. It also has a Hospital for Infectious Diseases that provides treatment as well as health education and follow-up to people infected and affected with HIV/AIDS and TB, including one of the few Mycobacteriology Labs in the state.
Since its appointment as a COVID-19 Hospital, the team has pooled its human power and resources and even increased its patient capacity to supplement the Government's efforts to provide healthcare during this pandemic. Currently this facility has a total capacity of 360 beds, of which 160 are with oxygen supply and few beds at the Intensive Care Unit (ICU).