Through this physical and mental practice, Lakshmi and 220 students of RDT Secondary School for Hearing Impaired Children build their confidence and self-esteem in rural India.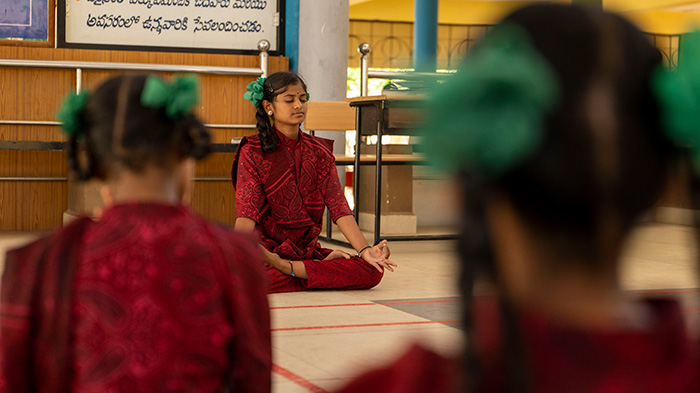 Yoga improves strength, balance and flexibility. It also relieves stress and enables relaxation. In rural India, it is also a powerful tool to build the confidence and self-esteem of those still facing hardships because of their disabilities. This is the case for T. Lakshmi, one of 220 students at RDT Secondary School for Hearing Impaired Children in Bukkarayasamudram. With a gentle smile and the calmness of someone who feels secure in her balance, Lakshmi guides her classmates through a series of breaths, body postures and shared confidence. "Practising yoga gets the blood flowing in my body and warms and strengthens my muscles. It also helps me improve my concentration. But beyond that, it makes me feel more confident, stronger and happier," explains the quick movements of her hands.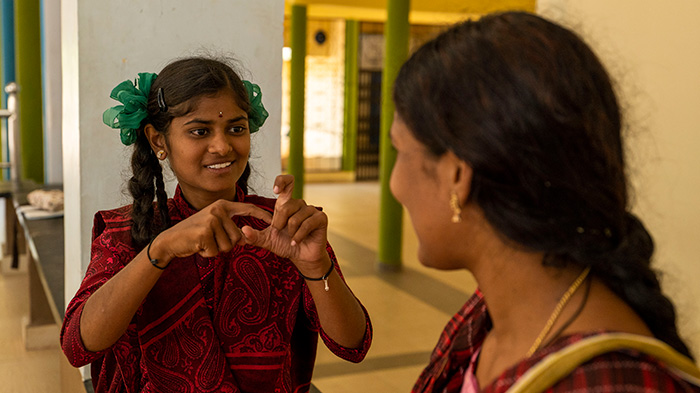 Her teacher, Saroja, interprets her gestures and what Lakshmi does not say. "Living with a disability is not easy. These children have had difficult childhoods. Not being able to hear what is around them makes them feel an isolation that we could never understand. All we can do is work hard to give them the tools to grow up with confidence and security," she says. "In this centre, they have access to education, food, clothes, cultural activities and sports practice. And most importantly, they have the emotional support they need to develop.," says Saroja.
Saroja understands very well what she is talking about. For years, her husband has been paralysed and unable to move due to an illness. Since then, in addition to working at home and looking after their two children, she has been responsible for generating income for the family to survive. "Unfortunately, I know very well how disabilities can impact individuals and families, which is why I like working here so much, because of the opportunity to share my time and knowledge with these children. Although, indeed, communication is not easy, after the 6 months of training in sign language that the centre provided me with, I feel that we have a special connection," she says.
Lakshmi agrees. Anyone can see it in the sweetness of her eyes as she observes her teacher speaking. "Since I was a little girl, my family has been my mother and siblings; my father left long ago. Now this place and these people are my family, too," she says. And Saroja confirms: "Everyone loves Lakshmi; she is one of the best students in the school. She loves to set an example for her classmates during the lessons. She is responsible, active and dedicated and loves to help her friends in any way she can. These are also values transmitted through yoga; values of effort, commitment and dedication," she adds.
There is no room for worries in the yoga class. For both of them, this is one of their favourite moments of the day. Moments where they disconnect to reconnect, relax the mind, letting go of what can't be controlled. 
Slow movements, deep breathing, muscles relaxed—moments where women share trust, hope and life.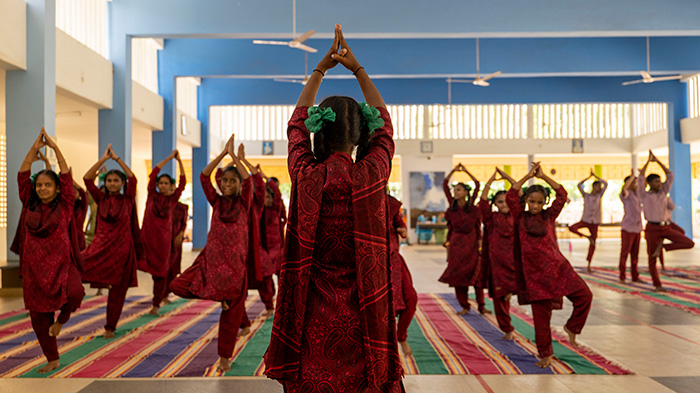 Photos & Text: Katia Álvarez Charro